Dr. Dinesh Thakkar
Dr. Dinesh Thakkar is a dynamic orthopedic surgeon. He has experience of more then fifteen years in management of trauma and osteoarthritis knee and other orthopedic conditions. Exceeding 400 Knee Restoration Surgery by modern Osteotomy for osteoarthritis Knee. His aim is to make society free from pain of osteoarthritis knee. He has done many modern osteotomies for osteoarthritis knee and saved pain free natural knee without restrictions of any activity. He has presented so many scientific papers in conferences of Indian Orthopedic Association, Gujarat Orthopedic Association and Ahmedabad Orthopedic Society. His many articles have published in Guajarati news papers.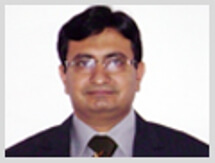 Doctors

Dr.Dinesh Thakkar M.S.(Ortho)
Long Life Hospital - Ahmedabad, INDIA
Dr. Vishal Chandarana D(Ortho)
Dr. Vidhin Patel (BPT) Physiotherapist
Long life Orthopedic Hospital, Paladi
News

Dr. Dinesh Thakkar has achieved young surgeon's forum award from Gujarat Orthopedic Association for his surgery of Modern Osteotomy for osteoarthritis knee in GOACON 2014.